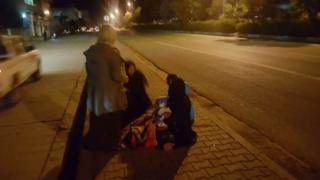 A strong 7.2-magnitude earthquake has rattled the northern Iraq-Iran border region, killing at least 10 people.
The quake struck in the evening local time south of the Iraqi town of Halabja at a depth of 33.9 km (21 miles), the US Geological Survey (USGS) said.
At least six people died in western Iran, state media said, with another four reported dead in Iraq.
The earthquake sparked panic in the Iraqi capital Baghdad, with residents fleeing their houses for the streets.
Mosques in Baghdad and elsewhere in Iraq have been saying prayers through loudspeakers.
Iranian news channel IRINN says rescue teams have been despatched to western parts of the country.
"Damage has been reported in at least eight villages," Morteza Salim, the head of Iran's Red Crescent Organisation, told the channel.
"Some other villages have suffered power cuts and their telecommunications system has also been disturbed."
Kurdish TV also said many people in the autonomous Iraqi Kurdistan region fled their homes when it struck.
Iraq-Iran earthquake: Deadly tremor hits border region